Additional Products and Services
ATM Cards
Access your accounts for cash using Lincoln 1st's ATM card. Stop in today to apply.
MasterCard Check/Debit Card
Access your accounts for cash or use as a Point of Sale (POS) for purchasing power at your favorite retail or dining locations. POS transactions will draw directly from your account's available funds eliminating monthly credit card bills. Lincoln 1st customers are automatically enrolled in MasterCard's Automatic Billing Updater Service to ensure the uninterrupted service of your automatic payments each month. See our Automatic Billing Updater notification for more details!
APPLY ONLINE TODAY! To save you a trip to the branch, you can conveniently apply online. Any lost or stolen cards must still be reported to one of our customer service representatives at (973) 694-0330. Replacement card applications will not be accepted for lost, stolen, or damaged cards until reported to branch personnel. Replacement card fees may apply.
CardValet
Lincoln 1st Bank is excited to offer CardValet by Fiserv. CardValet gives you, our valued customer, total control over your card to help reduce the risk of fraud and control spending. Using CardValet will enable you to manage, track, and report specific types of transactions and quickly detect unauthorized activity. Cardholders can customize their card preferences using a variety of options. These features and more are available through the CardValet Mobile App found in the Google Play and Apple App stores.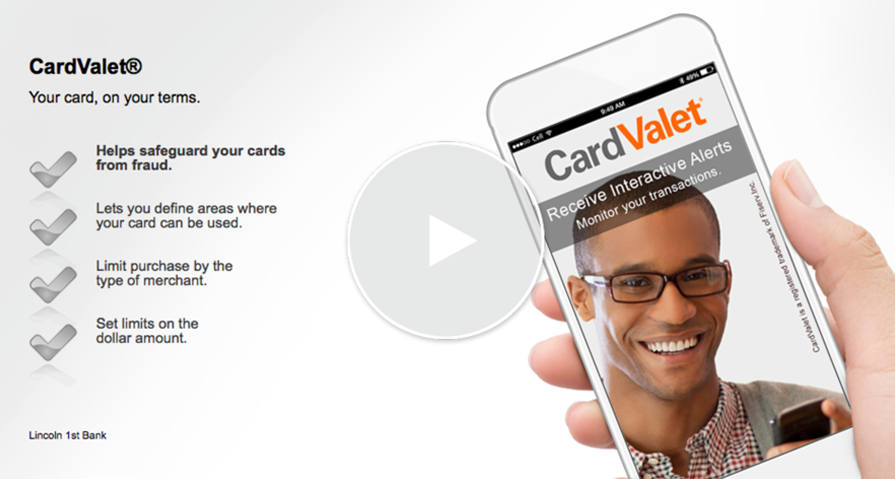 Real time alerts to keep you informed when your card(s) are used
Transaction controls allowing you to turn on/off your card. When your card is "off", no withdrawals or purchased can be made
Customized Transaction Controls:

Set spending for general use or specify thresholds by merchant types, such as gas, groceries, or retail stores.
Set location restrictions to merchants located within a certain range of each cardholder's location. Your card will work only in specific locations or geographic locations defined by you.
Set spending limits for your college student's card while away at college.
Check your account balances and view recent transactions.
eStatements
Trade your mailbox for your inbox. Go paperless today and enroll to receive eStatements! Receiving your paperless eStatements offers both convenience and an environmentally friendly way to manage your finances. Enrollment is easy and may be done in our Online Banking system. If you do not have Online Banking you may enroll here using our convenient standalone site.
CDARS
CDARS* is a safe, convenient and easy way to access FDIC insurance on deposits of $250,000 or more.
With CDARS you only have to worry about maintaining one account with Lincoln 1st Bank while enjoying the peace of mind of higher FDIC insurance coverage. You will benefit from highly competitive interest rates and receive one statement directly from Lincoln 1st Bank.
For more information about CDARS, please contact one of our branches. Contact Us
Direct Deposit
A safe, secure, and convenient way to have your payroll deposited directly to your Lincoln 1st Account. Please use this Direct Deposit Authorization Form to have your direct deposit set up today!
Safe Deposit Boxes (Lincoln Park Only)
Available in many convenient sizes. Call for availability.
3" X 5"
5" X 5"
3" X 10"
5" X 10"
10" X 10"
Please call us for additional information regarding:
Notary Public Services
Medallion Signature Guarantees (by appointment)
Wire Funds Transfers
Official Checks/Money Orders
Night Depository Services
Please call a Lincoln 1st representative for any additional fees and services related to our products.
*Placement of funds through the CDARS service is subject to the terms, conditions, and disclosures in the service agreements, including the Deposit Placement Agreement ("DPA"). Limits apply. Although funds are placed at destination banks in amounts that do not exceed the FDIC standard maximum deposit insurance amount ("SMDIA"), a depositor's balances at the relationship institution that places the funds may exceed the SMDIA (e.g., before CDARS settlement for a deposit or after CDARS settlement for a withdrawal) or be ineligible for FDIC insurance (if the relationship institution is not a bank). As stated in the DPA, the depositor is responsible for making any necessary arrangements to protect such balances consistent with applicable law. If the depositor is subject to restrictions on placement of its funds, the depositor is responsible for determining whether its use of CDARS satisfies those restrictions. CDARS is a registered service mark of Promontory Interfinancial Network, LLC.